System Maintenance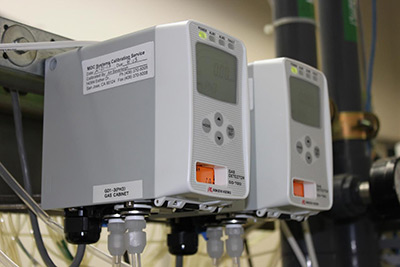 Once your system for toxic gas detection in San Jose, CA is in place, it requires critical upkeep and ongoing testing to ensure precise functionality and to prevent improper operations. MDC Systems, Inc. is dedicated to assisting you maintain your system throughout the life of its operation. We take a complete approach to delivering the ongoing upkeep and testing services required.
Once a system is approved and signed off on, our techs maintain systems to their fullest. Sensors have a shelf life, and always have to be challenged and calibrated—we can adjust them so that they respond correctly to gas levels per manufacturer requirements. Typically, checks are required every six months to a year, or more frequently as demanded by industry regulations and operational standards. Again, our techs are trained on all different manufacturers' systems and requirements.
From carbon monoxide to flammable gas detectors in San Jose, CA, trust that no matter what type of system you have installed, MDC Systems, Inc. is here to provide you with the peace of mind that the system is always working to its fullest. Get in touch with us today for more information about any of the ongoing maintenance and testing services we're able to provide.
Third Party Functional Testing
MDC Systems is asked to perform Third Party Functional Testing upon commissioning of a new system to ensure systems are working as designed and accepted by the local jurisdiction during the permitting process. Where third party testing certification is allowed by the local authority having jurisdiction, MDC Systems Inc. provides certified testing reports.
These third party certifications can be used for permit sign off on new construction or installations as well as for the annual functional testing that is required under California Fire Code section 2703.2.9.1 "Equipment, devices, and systems requiring testing" which mandates minimum annual testing.
Functional Testing involves the activation of alarms in order to verify output controls and this service includes:
Preparation and delivery of gas samples to each sensor above the alarm level in order to activate the alarm output controls.
Verify sensor is reacting to the gas sample and reaches the alarm set point shown in the functional matrix.
Upon activation of the alarm we use the system functional matrix to see what alarm outputs should have activated.
We then verify alarm output activations shown in the matrix for that specific detection point occurred and performed as designed.
We document the testing results on a Functional Test Report noting any outputs that did not occur or occurred differently than shown on the matrix.
Delivering a completed Third Party Functional Testing Reports to our clients to file for recordkeeping as evidence of this service.
Preparing cost estimates for repairs to the system upon completion of the functional testing services in the event that some of the alarm outputs failed to perform as shown in the functional matrix approved by the City.